Ronald V. ordered our HL Pure Silver cable 7 mm and made an interconnect with LOK silver RCA plugs. He wrote:
Tonight I connected my Unison cd-player with the HL 7 mm Pure Silver cable and I must say, the result surprised me in a pleasant way. Imagine then, the improvement which will certainly be there when this cabled has been playing longer! 
In comparison with the VandenHul D-102 Jubilee (pure silver), the VDH cable sounds somewhat coarse and less refined. The HL-7 mm cable sounds more spaceous, neutral, subtle and especially there's more rhytm. Although it is new, there's no harshness in the highs. My brother, who is a Siltech enthousiast, soldered this cable for me and he was impressed too by its fine sound reproduction!
In this price range there is no competition for the HL-7 cable. Lots of expensive high-end interconnects don't even get to this quality level.
---
David Brook ist ein regelmäßig wiederkehrender Kunde. Er schreibt:
Dear Jan,
YOUR SERVICE IS THE BEST I HAVE EVER EXPERIENCED
I would just like to express my sincere gratitude at the level of service provided by Holland Link. Even at this busy time of the year, December. I am based in England and I ordered some Furutech cable and it arrived within 3 days. Your service cannot be faulted and I look forward to dealing with you again very soon.
Best Regards 
David Brook 
Mains-Cables-R-Us
---
Max. O zu Linda-Velha, Portugal, kaufte den Isotek Aquarius Stromversorgung.
Er schrieb uns:
Hi Jan,
I've received the equipment and everything is OK.
The Isotek Aquarius is astonishing.
I just want say thank you, it was a pleasure doing business with you.
Cheers,
Max
---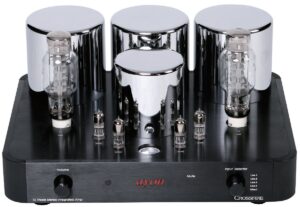 Reon B. zu Eindhoven bestellte den AYON Crossfire II single ended triode Röhrenverstärker.
Er schrieb:
I just want to give some feedback. I am very pleased with the Ayon Crossfire II that I purchased from you. I have now 'burned it in" for 50 hours and it simply sounds wonderful with my Vivid Audio B1 speakers. 
My other components are: Musical Fidelity A5 CD player, Harmonic Technology Magic Link II interconnects and Harmonic Technology Pro-9 plus speaker cables. 
The system now sounds wonderfully musical and natural. The sound is fast and very transparent with a very open sound stage. But more importantly, the detail never distracts as with my previous amp. 
All the detail is there, but forms an integrated whole that simply sounds relaxed, flowing and real. 
It is by far the best amp I have owned and probably the best that I have heard. 
---
danke – auch für Ihren hervorragende Kundenservice und die gute Kommunikation!
---
Vielen Dank nochmal für den guten Preis der Chinchstecker
---
Danke vielmals für Deine Hilfe